Albania chat room for meetings
Albania is situated in the western part of the Balkan Peninsula, bounded by the Adriatic and Ionian Seas. Recently we can see the increasing interest of tourists from all over the world to visit this wonderful republic Albania. Online dating in our chat with the residents of this country enlarge the circle of people who would like to meet with the beautiful beaches of Albania and to get acquainted with its rich cultural heritage, to be surprised by the loveliness of majestic mountains and picturesque canyons.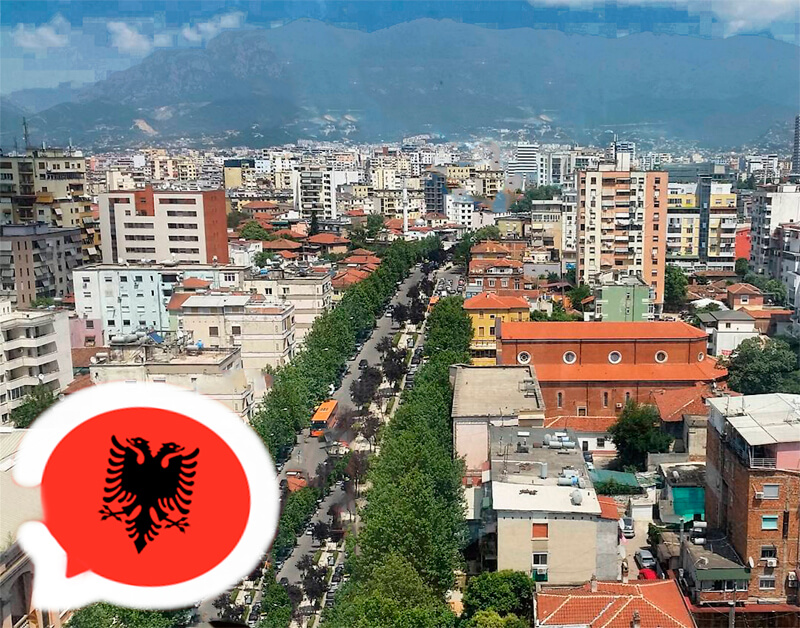 Chat Albania is one of the comfiest places for communication through the Internet with the residents of this country. It is very easy to assure of it by clicking the button "Start". After that you will immediately get to the warm teem of Albanian chat. There you will be able to find a girl or a boy from Albania pretty fast and what is more important - completely for free. Furthermore, chat without registration eases and speeds up the process of interlocutor search.
We offer you to visit chat Albania together with your friends! Invite your mates from social networks and may be you will meet them after another pressing the button "Next".
Those are some recommendations for the communication in the chat Albania:
Online communication languages in the Albanian chat are quite varied. There you can speak Albanian, Greek, Romanian, Serbian and even Gypsy languages. In our video chat you can also meet people who speak English, German or Italian.

Albania has very interesting cultural traditions and its citizens will be glad to tell about them.

The Muslim religion is prevalent there more than among the other European countries - around 70% of the country residents profess Islam.

It is interesting that in Albania the gesture of shaking head means consent. And a nod is a gesture of disagreement. You should have it in mind while communicating in the video chat.
ChatRoulette Albania
Every person who is looking for the communication with the residents of different Albanian cities are able to use ChatRoulette Albania. On this web site you can maintain a conversation in a chat with citizens of different cities such as Tirana, Durres, Elbasan, Vlora, Shkodra.
Random ChatRoulette offers you wide variety of chat rooms. Love, flirting, sex, serious relationships will come into your life and change your it, enrich it with new emotions and open new opportunities for you. Chat Albania fits people of different ages living in any part of the planet.
We wish you to find pleasant interlocutors that correspond your interests completely.